Description
This terrestrial slug is from the family Veronicellidae (leatherleaf slugs) andcan grow up to 3.5 inches in length. As the common name suggest, this slug is typically jet black with an inconspicuous tan stripe down the underside. They have two ocular tentacles that are also black. The velvety/wrinkled mantle covers the entire length of the body. Both the breathing pore (pneumostome) and anus are located posteriorly. Young slugs are not as dark, and their underside is much lighter.
Ecological Threat
In Honduras, where it is also invasive, it was reported as an important vector of the nematode parasite Angiostrongylus costaricensis that causes abdominal angiostrongyliasis in humans. This is our main concern for their prescence in Texas. Their insatiable appetite makes them a threat to many kinds of grasses and plants.
Biology
Belocaulus angustipes is typically nocturnal, and avoid sunlight extreme heat, cold or low humidity. They tend to live underneath living or inanimate objects such as fallen trees, planks and garden pots.
History
Belocaulus angustipes was first collected in Mobile, Alabama in August of 1960; then in New Orleans shortly thereafter. After being misidentified as Vermicella ameghini, in 1989 it was suggested to be Belocaulus angustipes, and was decisively confirmed in 2009. It was found in South Carolina in 2007, and an Oklahoma greenhouse in 2011.
Native Origin
South America: Brazil, Paraguay and Argentina
Current Location
U.S. Habitat: Since they are intolerant of low humidity the sup-tropical southeastern United State are very suitable. Commonly found in St. Augustine grass, they can also be found under rocks, boards, flower pots, greenhouses and even in the hearts of plants such as lettuce or cabbage. With the black leatherleaf slug having such a voracious and scavenging appetite, they could establish in urban, suburban and rural areas.
Distribution
AL, FL, GA, LA, MS, OK, SC and TX
Texas: Found repeatedly on Lamar State College's campus in Orange, TX. Over 2017-2021 the known distribution has expanded in Texas, thanks to diligent citizens reporting and mailing in specimens to the Texas Invasive Species Institute.
It has been found in: Anderson, Aransas, Atascosa, Bastrop, Bexar, Brazoria, Brazos, Calhoun, Cameron, Chambers, Comal, Dallas, DeWitt, El Paso, Ellis, Fayette, Fort Bend, Galveston, Gonzales, Guadalupe, Harris, Hays, Henderson, Hidalgo, Jefferson, Kleburg, Liberty, Montgomery, Nueces, Orange, Parker, San Jacinto, San Patricio, Smith, Tarrant, Travis, Walker, Washington, Webb, Williamson and Wilson Counties.
2020-2021 New County additions: Angelina, Austin, Bee, Bell, Burnet, Caldwell, Colorado, Hardin, Jackson, Kerr, Lavaca, Matagorda, McLennan, Medina, Trinity, Uvalde, Victoria, Waller, and Wharton.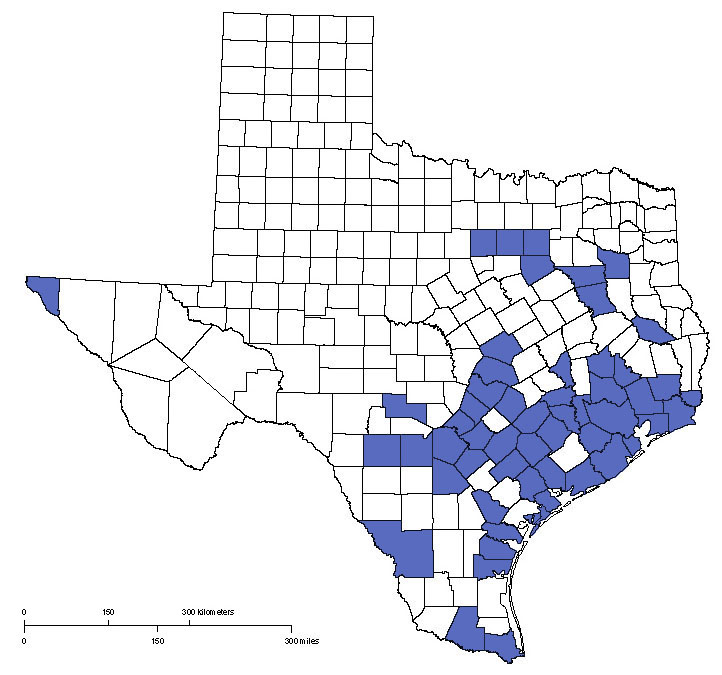 Resembles
The black velvet leatherleaf slug doesn't closely resemble any native terrestrial slugs.
Management
We are actively tracking the distribution of this invasive pest. To report a potential sighting, please email a photo of the slug and provide your location information to Ashley Morgan-Olvera, M.Sc. (invasives@shsu.edu).
Disposal is encouraged, place them in a Ziploc bag with salt and freezing overnight before throwing them away. To help prevent them use diatomaceous earth in your yard, garden or flower beds; this organic compound keeps the surface-level dry making it inhospitable for slugs and flatworms. Organic slug baits (iron phosphate-based and NOT Metaldehyde-based) can also be used.
Commercially produced metaldehyde slug traps can be set up to reduce slug populations; but slug bait is very toxic to domestic animals. If you have domestic animals you can use organic slug bait which is iron-phosphate based and NOT-metaldehyde based. Even with the organic slug bait, do not make it easily or consistently accessible to domestic animals.
** After handling live slugs, hands should be washed in hot soapy water, and rinsed in alcohol or a standard hand disinfectant. Angiostrongylus nematodes are appearing in Texas, it is encouraged that latex gloves be worn, or at least samples handled using a plastic bag**
References
Capinera, J. L., White, J., & Bernon, G. Terrestrial Slugs of Florida (Mollusca: Stylommatophora: Veronicellidae, Phylomycidae, Agrolimacidae and Limacidae).
Cowie, R. H., Dillon Jr, R. T., Robinson, D. G., & Smith, J. W. (2009). Alien non-marine snails and slugs of priority quarantine importance in the United States: a preliminary risk assessment. American Malacological Bulletin, 27(1/2), 113-132.
Dundee, D. S. and P. Watt, 1961. Louisiana land snails with new records. The Nautilus 75(2): 79-83.
Rambo, P. R., Agostini, A. A., & Graeff-Teixeira, C. (1997). Abdominal angiostrongylosis in southern Brazil-Prevalence and parasitic burden in mollusc intermediate hosts from eighteen endemic foci. Memórias do Instituto Oswaldo Cruz, 92, 9-14.
Walls JG. 2009. Just a plain black slug: Belocaulus angustipes. American Conchologist 37: 28-29.

Internet References
http://idtools.org/id/mollusc/factsheet.php?name=Veronicellidae:%20Belocaulus%20angustipes